CollectiVoX identifies opportunities to create positive social change through urban actions, focused on developing small scale urban interventions co-designed with communities.
I regard myself a creative and socially engaged practitioner, who deploys her architecture expertise to provide accessible and effective platforms for communities to engage in transforming their public spaces, built environment and planning with communities who tend to feel disengaged and/or disenfranchised by the conventional bureaucratic routes of action, severely underfunded or impervious.
As an architect involved with collectives and non-governmental organisations I employ strategies such as tactical urbanism and pre-figurative interventions in collaboration with communities as an effective platform to engage citizens, local authorities and the media to improve our built environment and the public realm.
That is the motivation behind CollectiVoX, a not-for-profit organisation based in Caracas I co-founded with Designer Itamar Ferrer and Cultural Manager Luisra Bergolla in 2008.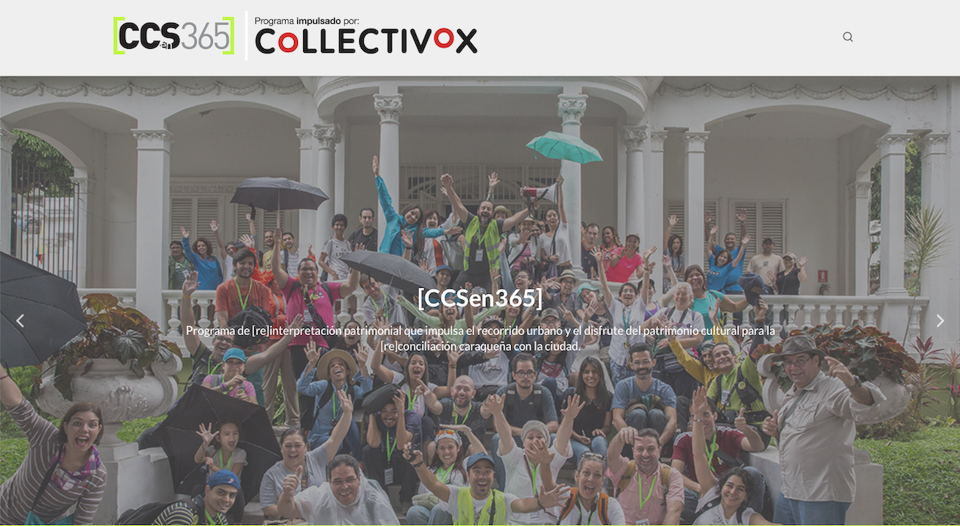 [CCSen365] is a heritage re-interpretation program, driven by Collectivox, which encourages the people of Caracas to reconcile themselves with their city and [re]discover the passion for their urban landscape and local memory through collective pedestrian journeys.
we have been re-occupying the streets and recognizing Caracas's heritage with architectural, historical and cultural value; with special interest in those sites and urban areas that have been blurred of collective imaginary and/or are accompanied by a high rate of painful and violent memories.
We believe that the best strategies to transcend fear of the street, drive cultural identity and strengthen our belonging with the urban space are by reinterpretation through lived experience. That's why we design city walks for reconciliation, playful enjoyment and collective exchange as practices to exercise our right to the city.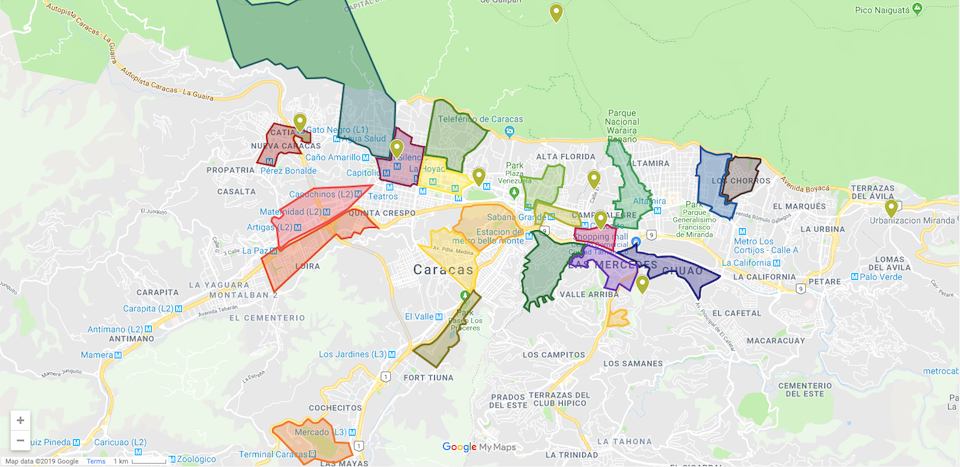 [CCSen365] interactive map of journeys realised https://ccsen365.com/recorridos/
Almost as an act of urban resilience,
our efforts have centred
on [re]framing with positive new memories
our places in Caracas
through urban journeys;
especially in areas that have accumulated
painful experiences.
If we don't do this, if we don't dare to transcend our fear,
we will have such a limited range of movement
that our city will become
a prison.
The new urban experiences
have enabled those who take part
to recognise themselves in others
to take ownership of their cultural identity
to escape their daily routines
and to reconcile with Caracas.
This demonstrates,
That even in the most adverse circumstances,
It is possible to [re]connect
with the pleasure and enjoyment of our urban landscape.
BUSCA TU ESPACIO
"you have the idea… we have the space!"
Caracas, 2014-2016
In partnership with The British Council & the European Union
The project offers young people between 15 and 30 years old in the Metropolitan area of Caracas opportunities to share their talents or interests for creative leisure time, through an online platform to search and find and access for free physical and/or virtual public and private spaces to do the activities they like. The project focuses on four core areas: culture, sports, education and entrepreneurship.
Busca Tu Espacio received a grant of € 430,000.00 from the European Union Delegation in Venezuela.
Landing page of Busca tu Espacio https://buscatuespacio.com.ve/
Space Intervention in El Sistema nucleus, 2015
Headquarters of the Chacao Youth Symphonic Orchestra, Centro Cultural Chacao, Chacao Municipality
Global Community Week El Sistema, Zurich Seguros Venezuela CSR. In partnership with: Zurich Seguros Venezuela and Fundación Orquesta Sinfónica Juvenil de Chacao
El Sistema, the Youth Orchestra System of Venezuela, reached its 40th anniversary in 2015, with more than 400 centers of music (nucleus) and around 700,000 young musicians enrolled in the system nationwide. One of these centres is located in Chacao, a municiplaity in Caracas (headquarters of the Fundación Orquesta Sinfónica Juvenil de Chacao). Originally designed with 10 rehearsal rooms to accommodate a small Orchestra. However, the growth of the system in Chacao – which now houses up to 3 orchestras and a child choir – makes these spaces insufficient to accommodate 700 students, together with its administrative staff. The high traffic of people had become disorganised by the lack of clarity in the hierarchy and organisation of the spaces. CollectiVoX conceptualised a cost effective solution based on chromatic interventions in all the rehearsal rooms for clarity and concentration in these small areas and three artistic interventions in the silence chambers and main rehearsal room by Luis García, aka Legz, a Venezuelan artist specialising in calligraphy and typographic creations. Legz interventions – inspired by musical scores – helped provide personality and fun to the centre while at the same achieveing a clearer spatial order and ease for the noise control.
Time lapse video of LEGZ artistic intervention, coordinated by CollectiVoX
BUCARAL
Caracas, 2014
Urban/artistic interventions, and community workshop at the popular sector of Bucaral, Chacao Municipality, Caracas.
Sponsored by Zurich Seguros Venezuela, Global Community Week
Partners: Chacao Municipality and Fundación Deporte para el Desarrollo.
Urban artist FLIX was invited by CollectiVoX to co-design with the community the banner that was installed in the main entrance. In addition, the community's sports ground was the scene for an artistic intervention also designed by FLIX, painted collectively with the community and Zurich's volunteers.
Photo credits: Luisra Bergolla
Bucaral main entrance before our intervention
CollectiVox. Bucaral, Caracas, 2014
chromatic/artistic intervention of Bucaral's sportsground
2014 Bucaral. Time lapse video of the installation.
!DIGALO CON TIZA! (SAY IT WITH CHALK!) 2012
intervention on the facade of the recently restored Cesar Rengifo Theatre.
Petare, Caracas.
Partner: FundaLamas, Sucre Municipality. Client: Sucre Municipality
http://www.collectivox.com/Suena-en-Voz-Alta
"Say it with chalk!" was the first intervention for the free participation of Petare community. Inspired by the work of Candy Chang, it asked the community to answer "What Petare lacks is____". The facade became an open platform, used by petareños to express their desires, aspirations, feelings and opinions about their community to the municipal authorities, in a playful non-mediated manner.
Photo credit: Luisra Bergolla
CollextiVoX. !DIGALO CON TIZA! (SAY IT WITH CHALK!) 2012
Talk: "minimun scale, maximum impact".
Itamar and Penelope spoke about Collectivox's humble beginnings and slow steady growth, working primarily on small scale projects of urban interventions in Caracas, in close collaboration with local communities, with very limited budget and resources.
Pilot Project of Échale Color a 24 de Marzo, Petare. 2011
http://www.collectivox.com/Echale-Color
Inspired by the global initiative "Let's Colour project '(Dulux). An initiative of Paz con Todo in alliance with Pinturas Montana.
Partners: PazconTodo, QuieroPaz and Pinturas Montana, with the support of United Nations Venezuela
Collectivox was in charge of the art direction, logistics, planning and implementation of the urban intervention in the community 24 de Marzo, sector La Bombilla in Petare, Caracas. The consultancy included logistical coordination of implementation, community liaison and the study of the color palette. 24 de Marzo is the third most violent slum in the municipality. To implement the pilot phase of the project CollectiVoX proposed negotiating a truce with the criminal gang controlling the area, to guarantee the safety of the community and volunteers. QuieroPaz was able to secure the truce while the intervention took place on 24 and 25 September 2011. These two days were the first peaceful weekend the community had enjoyed in years.
Photo credit: Luisra Bergolla
satellite view of 24 de Marzo, Petare, Caracas. Estimate of the surface area of houses to paint
Due to the difficulty of doing long visits to do a survey of the houses because of the violence, we made a photographic visual survey to make an estimate of the surfaces to calculate the amount of paint we needed
visual survey of houses to be painted
As the only architect in the Network for Peace (Red x La Paz), I made this visual representation of the number of volunteers we needed per square meters of surface to be able to paint one coat in one hour. It was crucial as we were looking at over 5000 square meters of house fronts to paint in one weekend!
Sharelly organising the volunteers and the tools for an intense day of painting
Children, neighbours and volunteers from 24 de Marzo working together
CollectiVoX. Pilot Project of Échale Color a 24 de Marzo, Petare. 2011
Video documentation by Paz Con Todo, 2011
Conciencia Visual para la vida urbana.
Guest Artists of the Festival Por el Medio de la Calle. 2010
http://www.collectivox.com/Conciencia-Visual
Futuros Gráficos Workshop
urban intervention and visual campaign focused on youth crime prevention.
Partners: Festival Por el Medio de la Calle, Plátano Verde, Chacao Municipality
Photo credits: Mary Pili Ojeda
poster for the Futuros Graficos workshop
Futuros Gráficos Workshop, Pro-Diseño Design School
Conciencia Visual para la Vida Urbana, live painting the mural at Festival Por el Medio de la Calle
CollectiVoX. Conciencia Visual para la vida urbana. Guest Artists of the Festival Por el Medio de la Calle. 2010
Our crew, from left to right: Sink, ByPato, Blue Chicken, Penelope, El Calvo, Itamar, Diep
Our workshop and mural made the national news!
"Conciencia Visual: design to prevent crime"
Ultimas Noticias, july 4, 2010
FURTHER EXPERIENCE IN ARCHITECTURE PRACTICE
PORTAFOLIO Interior Design and Strategic Branding
2008-2010
Project Manager
Larrañaga – Obadía Arquitectos Asociados
1998-2000
Assistant Architect
MUSEIA Art, Architecture and Museology
1997-1999
Interior and Exhibition Designer
Cultural Heritage Institute, Technical Office for the Restoration of the Federal Legislative Palace.
1996-1997
Assistant Architect
Me helping UK artist Peter Liversidge.
Multiplication, exhibition at Alejandro Otero Museum in Caracas
Photo by Charlie Riera for The British Council Venezuela
EXHIBITION DESIGN + ARTS MANAGEMENT
Arts Coordinator
The British Council Venezuela
2005 – 2008
I delivered the British Council Arts programming in the fields of Design, Music, Performing Arts and Visual Arts. Responsible for budgeting, planning, production, protocol, score-carding, and coordination of media plan and coverage with the Marketing Department. Below is a full list of the series of events I organised for the Arts Department:
Architecture
"Old but New / New but Old, Urban Regeneration in the United Kingdom" exhibition, toured architecture schools nationwide (2007-2008).
Urban Regeneration Workshop with Iain Tuckett, Executive Director of Coin Street Community Builders, Faculty of Architecture and Urbanism, UCV (February 2007).
Survey of Contemporary Latin American Architecture, Venezuela stage by Catherine Ince, British Council Design and Architecture Advisor, Venezuela was selected to participate in the Young Designer Entrepreneur of the Year Awards (2007/2008).
Design
"Import/Export Creative Circuits" exhibition showcasing British and Venezuelan young designers at Corp Banca Cultural Centre. (July-September 2006)
Design Workshop "21st Century Souvenirs" led by Susy Wood of WoodMcGrath, Kim Cluxton of The Lighthouse, and Venezuelan designer Teresa Mulet, for final year design students and young professionals in graphic design, fashion and industrial design; at Corp Banca Cultural Centre (October 2007)
"Identity to Go: Souvenirs for the 21st Century" exhibition at the Carlos Cruz-Diez Museum of Print and Design (July 2008 – July 2009)
Visual Arts
Regional Museum Seminar: "The museographic project and the interpretation of heritage", Facultad de Arquitectura Universidad Central de Venezuela (March 2007).
Exhibition "Multiplication: Artists' Multiples", Museo Alejandro Otero (November 2005- January 2006).
Regional Museum Seminar: "Strategic Planning for Museums'' led by expert consultant Sue Daniels, Museo de Bellas Artes (November 2005).
Music
"Incubator: powering the music industry", workshops, clinics, talks, demos and concerts, with special guests speakers: Jo Metcalf (Incubator artistic director), Sarah Lowe (Fifth Avenue PR), and MAD Professor (Master of Dub-step). Organised in collaboration with Fundación Nuevas Bandas and IUDEM (October 2008).
Coordination of activities and institutional communications between Sistema Scotland and El Sistema, to support the implementation of the Venezuelan youth orchestra system in Scotland, by establishing the first nucleus in Stirling and Raploch (2006-2008).
Ninjatunes' DJ Vadim and MC Yarah Bravo, international guest artists for the Hip Hop Festival COOLtura Chacao. Concert and workshops developed with Alcaldía de Chacao (November 2006).
Theatre
International Theatre Festival of Caracas, participation of the British company Faultyoptic with "Tunnelvision", presented at the Teatro Alberto de Paz y Mateos, Caracas (March-April 2006).
La Creperie Café & Arte
Art Gallery Manager
2000 – 2002
I created a bi-monthly program of painting exhibitions to provide exposure and support to emerging local visual artists outside of the commercial gallery circuit. It also aimed at raising the profile of the restaurant and to bring in new customers. I was the talent searcher, curator, exhibition and catalogue designer, and publicity manager for the following contemporary painting exhibitions:
Cristina Núñez June-August, 2000 21-06 / 21-08 2000
BOGZ by Alejandro Borges, August-October 2000
Madonas del Trópico by Benjamín Hierro, November-January 2001
La Cumbre by Elizabeth Cemborain, March-May 2001
Jean Bernier, June-September 2001
Takako Kodani, September-November 2001
Collective, November-February 2002
Fidias Lista, February-March 2002